ROBERT BISSELL
Talk to the Animals
E.S.Jones
'Whatever happens to the beast also happens to the man. All things are connected' Chief Seattle, Suwamish Tribe
Robert Bissell's paintings could have been lifted from the pages of a children's well-loved story book, but closer inspection reveals a far deeper meaning. Like animals from Aesop's fables or Watership Down, the timeless philosophy of each subject leads us into powerful childhood memories- and the innocence of who we really are. His creatures challenge our forgotten sense of play with disarmingly Narnian wisdom; we find that the fairytale symbolism still resonates with an adult spirit.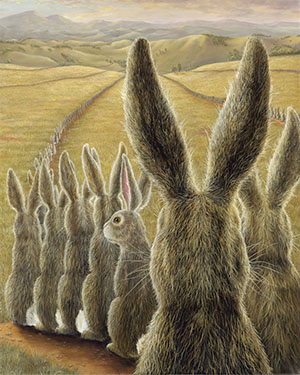 Bissell is the master of altering perspectives: one minute we are peering down on a softly whimsical scene of bears and butterflies; the next we are dwarfed by a giant rodent (with every single one of his ratty hairs glistening in high definition). Some characters are too big for their worlds; others nearly lost in the sprawling landscape. Bissell's animals in some way hold up a mirror to our own triumphs and failings- unmasking our callings, journeys and secret desires. Although the artist's technique is remarkably realistic, his creatures appear surreal- as though clones of each other. There is not a group of wolves, only one universal wolf repeated across the canvas. In this way, the works have the golden enchantment of a dream, provoking an out-of-body experience for the viewer.
In ancient mythology, animals carried their own symbolism, existing as omens for interpretation. A fox slinking in the shadows is a glimpse into the supernatural; a horse galloping across the field is a promise of strength and freedom. In the attempt to make sense of human existence, we are looking for moral authority- and find it in living breathing furry metaphors. Unable to fully detach, we will see certain human traits in animals long before we recognise them in ourselves. At one with their environments- and at peace with themselves- the animals reveal things hidden from human eyes. They continue to teach us about the possibility of less cluttered lives, allowing earth to connect with an uninhibited spirit
Animals are good for thinking
Philosopher Claude Levi-Strauss
From the Invitation to Robert Bissell Exhibition in October 2019 at Chloe Gallery, San Francisco, USA
Robert Bissell is a painter of naturalism and fantasy, combined and influenced by Romanticism. While his works touch upon wonderment, they offer a convincing view into a world without 'civilization,' wherein the viewer is mesmerized by the power of light and the essence of natural law – yet tinged by fancy. This genre of art is sometimes called Magical Realism.
Early tribal cultures believed the natural world to be the bridge connecting earth and spirit. Animals were regarded as powerful spiritual beings that could connect humans to unseen realms, the environment, and each other. Along these lines, Robert Bissell creates works that transport us into a completely different atmosphere than that of modern daily life, inviting us to learn more about ourselves and to contemplate our origins in the natural world.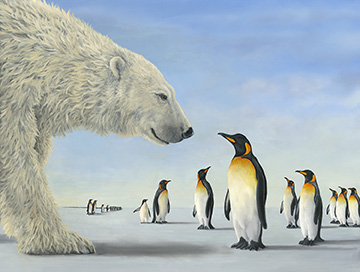 In his animal paintings, the world of animals is a mirror for human existence, self-definition, and self-reflection. Yet, these aren't mere children's tales. "Bissell's work disarms by narrating vitally grown-up and urgent allegories in the guise of child-like humor," counters William Zimmer, art critic for The New York Times.
Bissell's paintings explore the idea that animals have metaphysical importance to our own spiritual well-being. Lured into a realm absent of humans, Bissell's animal characters ask that we consider our own condition and place in nature. While whimsical at first glance, there is underlying tension and precariousness beneath the images. Disarmed, we objectively consider ourselves without familiar references.
"His animal work is full of charged meaning and lore, and it's touched by surrealism", says Suzanne Bellah, Director of the Carnegie Art Museum. "Influenced by the surreal legacy of Magritte, he mixes scales and uses gigantism with a variety of textures and subtle color palettes." Indeed, Bissell keys his palette to the great landscape masters of European art Claude Lorrain and Corot (France) and Thomas Gainsborough (England).
Imaginary Realist Robert Bissell creates a completely different atmosphere from our daily experience, inviting us to learn more about ourselves. In his paintings the world of animals is a mirror for human existence, self-definition and reflection. These are not mere children's tales - quite the contrary. Bissell's work causes us to reflect on the environment, life, death, renewal and the stages of transition - departing from the safety of family, and making our way in the world.
Bissell grew up on a farm in Somerset, England, where animals, Celtic legends and panoramic landscapes were part of his daily life. His keen interest in visuals began at an early age, documenting life around him through photographs. He would spend hours stalking wildlife on the moors close to his house to see how close he could get before they would sense his presence. But ultimately, country life was not for him and Bissell headed for the city to study art.
After earning his bachelor's degree at the Manchester College of Arts and Technology, Bissell moved to London for post-graduate work in fine art photography at the Royal College of Art.
After completing his studies, Bissell spent four years traveling the world, working on cruise ships to pay his way. In 1982, after settling in San Francisco, one of his favorite ports of call he began working for The Sharper Image as photographer of its high tech merchandise. For the next decade he moved up the corporate ladder, during what is arguably the companies most exciting time, to become head of the creative and merchandising divisions. In 1992, he left the company to start his own retail catalog company in Portland, Oregon, which was eventually sold to Readers Digest.
In 1995 he began to wonder if the long-term implications of the industry he was engaged in really fit his world-view. The catalogs he was producing wasted a great deal of paper with very little return. Trees destroyed for paper, most of which was just thrown away. The corporate world had also taken its toll. Bissell missed art. He decided it was time to explore the possibilities of telling people about nature and his view of it though painting. He had studied drawing in college and believed that it was simply a matter of wanting it – and teaching himself to paint.
"I had forgotten why I wanted to be an artist in the first place," he said. "I wanted to get that back, and I am glad I did before it was too late."
Pagans and Celtic Christians believed the natural world was the bridge that connected earth and spirit, with animals acting as spiritual intermediaries. Now, most people live in cities and suburbs, separated from that world. "Animals used to be involved with humans as messengers with magical functions," he says. "Now they are our slaves for consumption and entertainment. I wanted to restore their role and give them a new voice."
Since then he has devoted all this time to painting. He regularly exhibits in museums and galleries across the United States and Europe. Bissell hopes his paintings appeal to the intellectual child in us, reminding us of the mythic and universal human values in the tradition of the great heroic-quest stories. His work encourages us to reflect on nature, the roads we travel, and the choices we make along the way. His story encourages us follow our passions and have the courage to do what is meaningful to us – whatever that might be.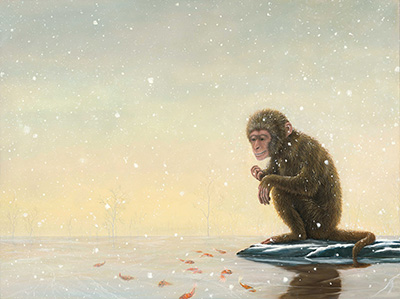 This Universe of Life
The Online Exhibition 1 -31 December 2019
Artist Statement
The environment and humans relationship to it has always been a fundamental aspect of my work and in recent years I have found myself reacting even more to the vast changes our natural world is experiencing. Looking back over the work displayed here I am aware that a narrative was being created as I painted. Beginning with Inspiration (the first painting I did in this series), the figure looks up with wonder at the waterfall, a source of creativity and imagination. In Supernova, our protagonist pays homage to the universal forces that sustain us. In The Race our elephants rejoice and play in the elements that support them and In Mono No Aware, the figure contemplates a gentle falling snow by a frozen lake as it's inhabitants swim below. How more perfect can this world be that surpasses anything humans can create? In The Mountain, our figure faces a seemingly great challenge with an overwhelming oncoming tide and in Meeting on The Ice we are presented with an enigmatic scene as we imagine polar bears travelling south in search of new habitats. Finally, the fragility of animal and human existence is presented boldly in Titan as this majestic black rhino challenges us to contemplate our own influence over the natural world.
Robert Bissell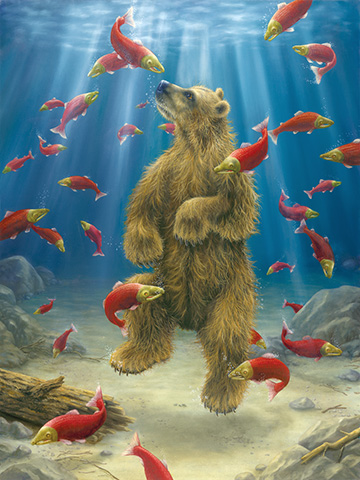 The Swimmer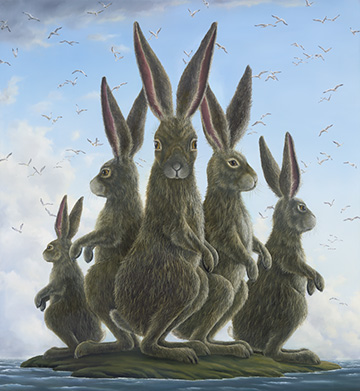 The Exiles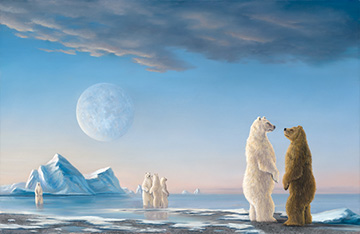 The Accord
Selected Recent Exhibitions
2019 Lahaina Gallery, Newport Beach
Imaginary Realism Summer Show, Viechtach, Germany (Group show)
Chloe Gallery, San Francisco, CA
2018 Art Of Aloha Show, Lahaina, Maui, HI
2017 Lahaina Galleries, Newport Beach, CA
2016 Lahaina Galleries, Newport Beach, CA
2015 Hay Hill Gallery, London, UK
2014 Chloe Fine Arts, San Francisco
Marcus Ashley Gallery, South Lake Tahoe
Lahaina Galleries, San Francisco
Borsini-Burr Gallery, Montara, USA
2012 Art of Aloha, Lahaina Galleries, Maui, HI
2011 Exclusive Collections Gallery, San Diego, CA
2010 Chloe Fine Arts First Anniversay Show, San Francisco, CA
Borsini-Burr, Bissell Show & Reception, Montara, CA
PUBLISHED WORK/AWARDS:
Spirit, The art of Robert Bissell, Spring 2019
Hero, The Paintings of Robert Bissell, Spring 2013
Imaginaire lV, Contemporary Magic Realism, September, 2011
Imaginaire lll, Contemporary Magic Realism, September, 2010
Deamscapes, The World of Imaginary Realism, October 2007
Cavendish Writers Compendium 2005
Southwest Art Magazine, June 2004
Un Jour A La Ferme - Pierre Coran, May 2003
Southwest Art Magazine, May 2003
Le Jardin des Peintres - Pierre Coran, Oct 2002
FLORA - by Edward Lucie-Smith, Summer, 2001
DOG - as featured in art. by Iian Zaczek, March 2000
E.D. Foundation Grant, Sept. 1999
CAT!, The Cat in Art by Andrew Edney, June 1999
Featured Artist: Commute Options Week, Bend, OR 1999
Affiliate Artist, Headlands Center for the Arts, San Francisco 1999
Portland Living Magazine, 1998
New American Paintings, 1997
The Dream Road, 1997. Paintings by Robert Bissell and short stories.
Daily Telegraph (England) Sunday Magazine Award, 1976
British Journal of Photography Annual, 1977
EDUCATION:
1976 Royal College of Art, London, England
MFA in Fine Art Photography
Studied with John Hedgecoe and Bill Brandt
1974 Manchester College of Art
BFA in Photography