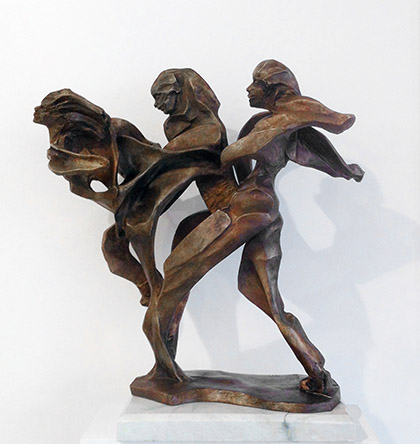 ANDY CHEESE
Andrew Cheese was born in Odstock, Hampshire. He attended Ravensbourne College of Art where he gained a B.A. Hons Degree in Sculpture.
"I use a broad range of materials, including stone, resin, wood, steel and plaster. Most of my pieces are based around the human figure, or drawn from nature. These are subjects I find intensely interesting, as the varieties of form and texture are infinite. I often use the suggestion of movement in my work, as I feel that this gives the sculpture more 'life' and helps to engage the viewer. I have studied the movement of everything from dancers to kinetic machines, and used them to give me inspiration."
The most recent sculpture he has produced is called 'Movement', and has a feeling of fluid motion and a strong use of line and negative spaces to create tension within the figures.

The purchase document contains the images of the available artworks with their prices. It is password protected. To obtain the password please contact us.