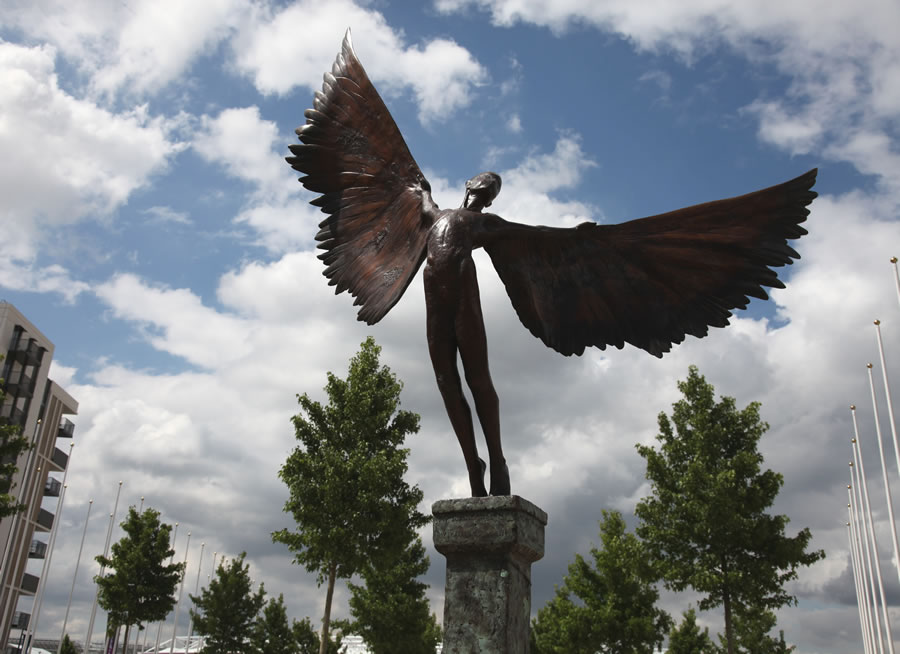 Photo by Eddie Powell
'Icarus I' at the Olympic Village.
The work stands at about 3.5m high on its bronze plinth.
The work was commissioned for display in the OLYMPIC VILLAGE from June until September 2012.
On the base of the plinth is written an extract from a poem written about Icarus.

"My audacity was my joy not my disaster,
I reached a glory higher than Olympus,
My fall was worth the flight."
M. Spilberg. 2012
NICOLA GODDEN
Nicola has been exhibiting and selling work through galleries mainly in London and Ireland. Over the years she has done a number of commissions for property companies including Berkeley Homes who, along with the Wildfowl and Wetlands Trust (WWT), commissioned her to produce the seven foot statue of the late Sir Peter Scott with two Bewick Swans for the wetlands centre at Barnes in London. The Peter Scott bronze sculpture was unveiled by David Attenborough in 2000.
The work: In recent years a lot of Nicola's work has been derived from found objects such as flint, coral and bone. Some work is more obviously inspired in this way than others. Eve I and III, in particular, are almost copies of the original piece of flint that was found, with some alterations to bring out the human resemblance.
Nicola's latest passion is with the idea of Icarus the mythical boy who flew with wings made by his father Daedalus to escape from King Minos. Nicola got her Private Pilot's Licence in 2011 and flies an Ikarus aeroplane. This change in her life helped with the inspiration for the latest work.
purchase (pdf, password protected)
The purchase document contains the images of the available artworks with their prices. It is password protected. To obtain the password please contact us.