JAMIE MCCARTNEY
Significant (Notable) Works
Internal Affairs (2022)
Materials: C-type Archival Photographic Print on Fuji Matt

Size cm: 94 h x 69 w (inches: 37 h x 27 w), Edition: 100

Size cm: 129 h x 94 w (inches: 51 h x 37 w), Edition: 6

Description:

This incredible series of casts were taken (following medical advice) from the inside of the vagina, displaying all the mysteries within. The process to create a continuous cast from inside to outside is very challenging and has never been accomplished before. This unique artwork is absolutely cutting edge, going where no artist has dared to go before and results are stunning. From the polished glass front face you see the details of the vulva, labia, clitoris etc can actually peer inside to the acid-polished glass interior vagina. From the reverse you can see all the anatomical details normally hidden from view. The depression on the cervix, the location of the G-spot, the folds of the skin and entrances to the vagina and the urethra etc.

Whereas male sex organs are on show for all to the see, females' are hidden from sight. With this unique work I have made the invisible visible, using beautiful lead crystal glass casts to convey that that this object represents a space, rather than a solid. The vagina is a potential space, moulding itself to whatever enters, in this case, the casting material. We are curious beings by nature and this work seeks to explore that sexual curiosity - what exactly is hidden within? Like The Great Wall of Vagina this sculpture is educational, sensational and beautiful. Jamie's studio is the only place in world making these pieces. This print is on sale for the first time to the public from May 2022.
Peace Machine No.2 (2015)
In 2015 Jamie McCartney was invited to Ukraine to speak about provocative art at the Eastern Partnership Culture Congress Lviv. The theme was 'The Mission of Culture During Crisis'. This was the first time Jamie had been to a country that was at war on its own territory.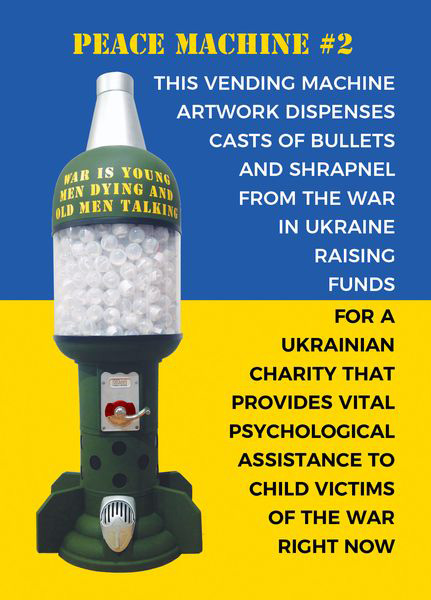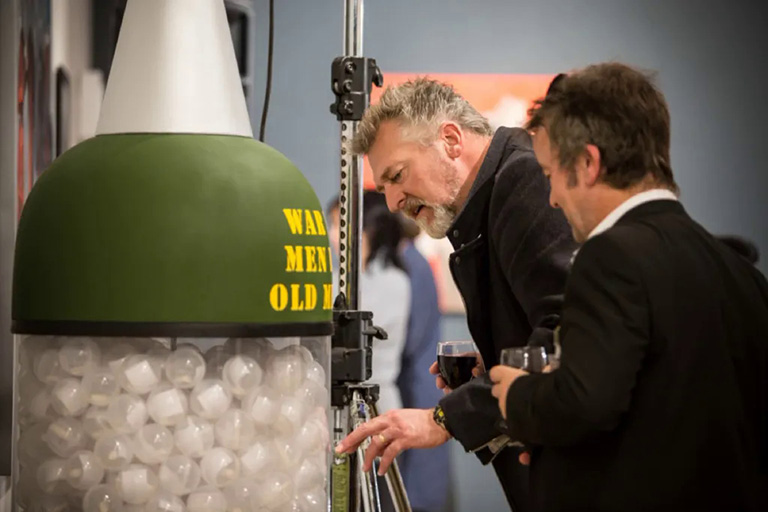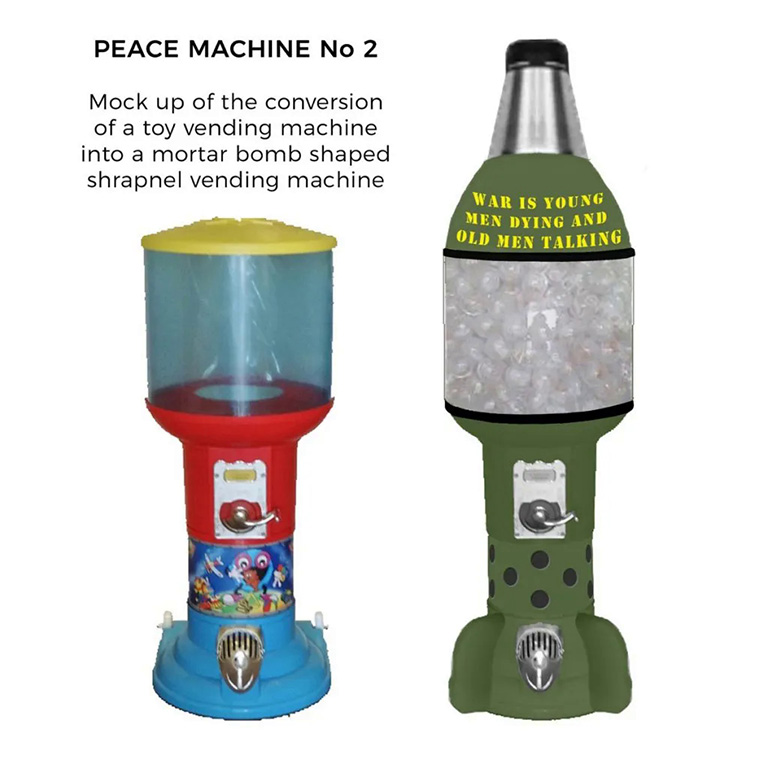 The Great Wall Of Vagina (2011)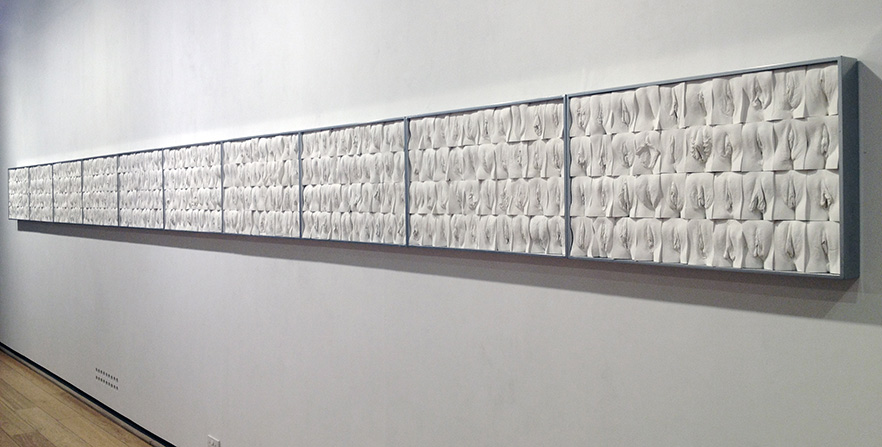 Jamie McCartney's most famous work was first shown at Hay Hill in 2012. It was the original vulva diversity project that has inspired so many more. Aghast that a male narrative was driving a huge rise in women seeking intimate surgeries, Jamie sought to demonstrate normal genital variety.
The 8 metres long wall sculpture consists of four hundred plaster casts of vulvas, all of them unique, arranged into ten large panels. Jamie set out to make this project as broad and inclusive as possible. The age range of the women is from 18 to 76. Included are mothers and daughters, identical twins, trans men and women as well as a woman pre and post natal and another pre and post labiaplasty and many others.
Vulvas are as different as faces and many people, particularly women, don't realise that. Featuring in a growing list of sex-educational texts, it is used by medical professionals the world over to reassure women, alleviate genital anxiety and provide context before turning to cosmetic surgery. The latest fashion for so called designer vaginas could easily reverse one day and favour larger labia. This project has been championed as a powerful antidote to insecurity.
Five years in the making and entirely self-funded it typifies Jamie's determination to produce world-changing socio-political work. It is currently on show in a museum in Lisbon and moves to a museum in Miami later this month.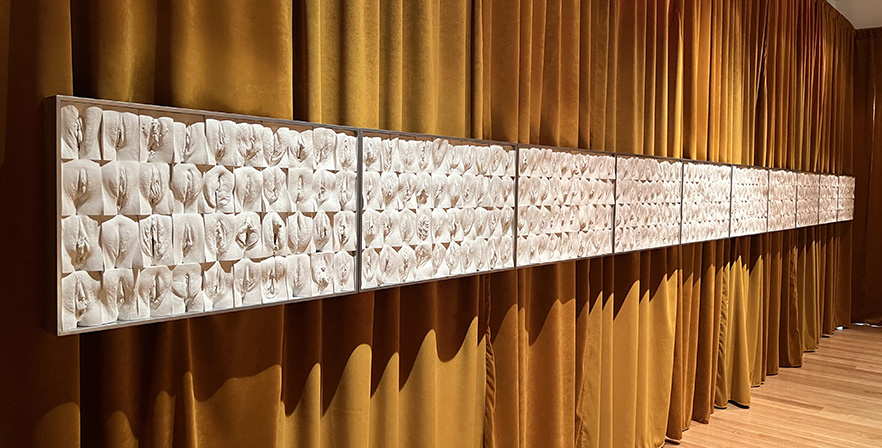 Car-bon Miles
2007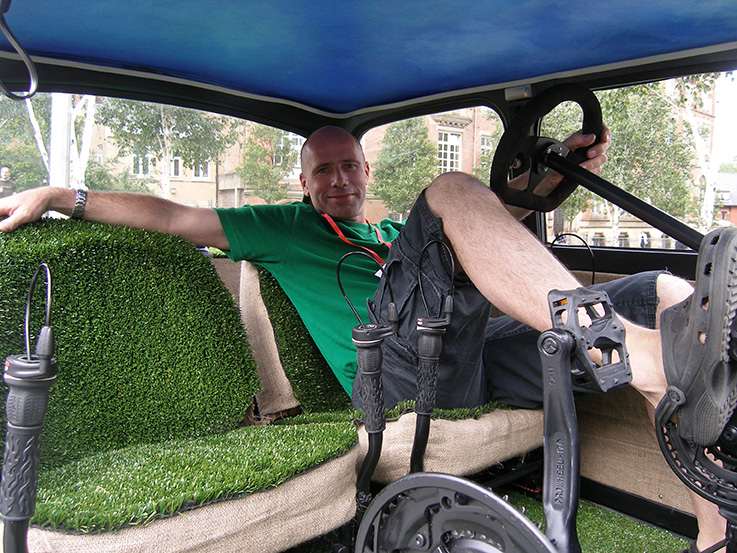 Jamie turned this vehicle into a moving artwork for the UK's first Art Car Parade in 2007. It was awarded the top prize for the most environmentally friendly car. He converted an old East German Trabant, famous for being the most polluting car ever, into a pedal-powered vehicle to create the least polluting car ever.
In the 50th anniversary year of the Trabant, the intention was to highlight the problems facing us with increasing vehicle numbers. Using humour to attract attention to the issue is typical of Jamie's methods to get the public's attention without beating them up with a message. With this piece he wants them to consider the impact of cars on our environment, our health and our future.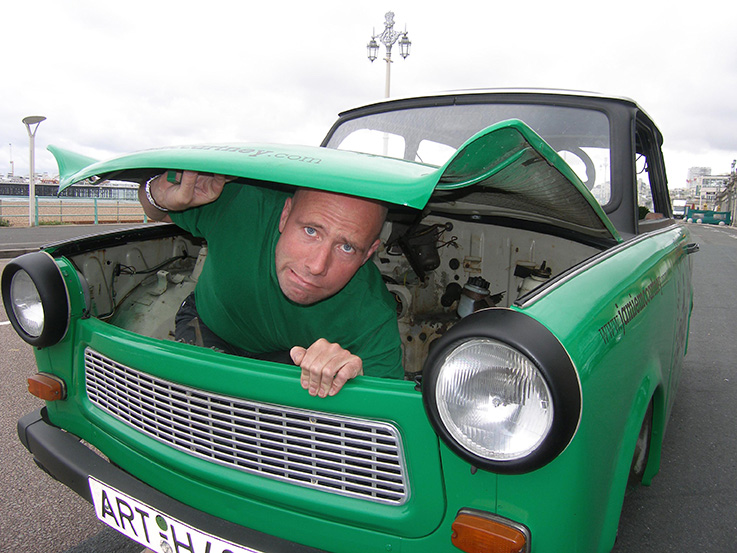 The Spice of Life
2006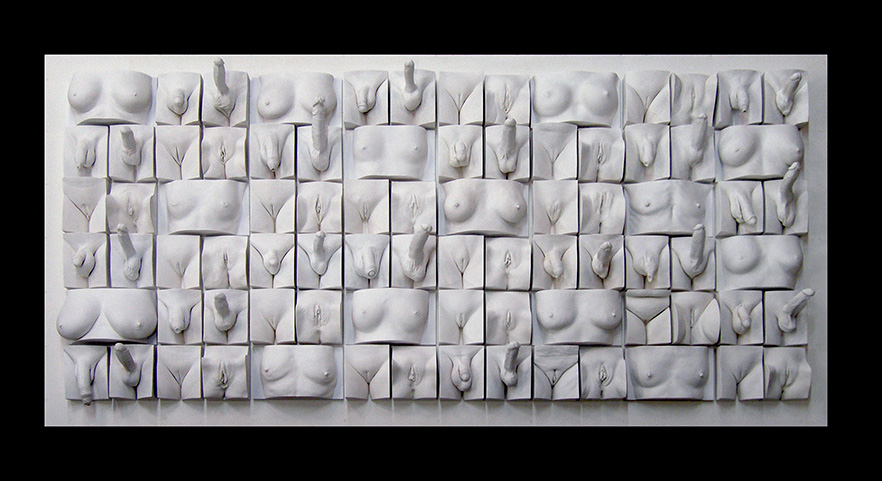 The Spice of Life was commissioned by Amora, an erstwhile sex-education museum in London. The original intention was to use photography to demonstrate genital variety. Jamie however was convinced that casting was a better approach. It shows the exact scale, neatly sidesteps issues of race, avoids comparison with pornography and presents a rare opportunity to really see what other people are like. Amora was persuaded.
It was in the process of casting the 18 men and 18 women who appear in this piece that Jamie became aware of how anxious many women are about their genital appearance. Inspired by the effect that seeing these casts was having on his models, Jamie conceived the idea for a larger and inspiring genital artwork to assist women in overcoming their anxieties. The resulting artwork became known as The Great Wall of Vagina and is championed around the world as a game changer in the fight against genital shaming.