GAMAL MELEKA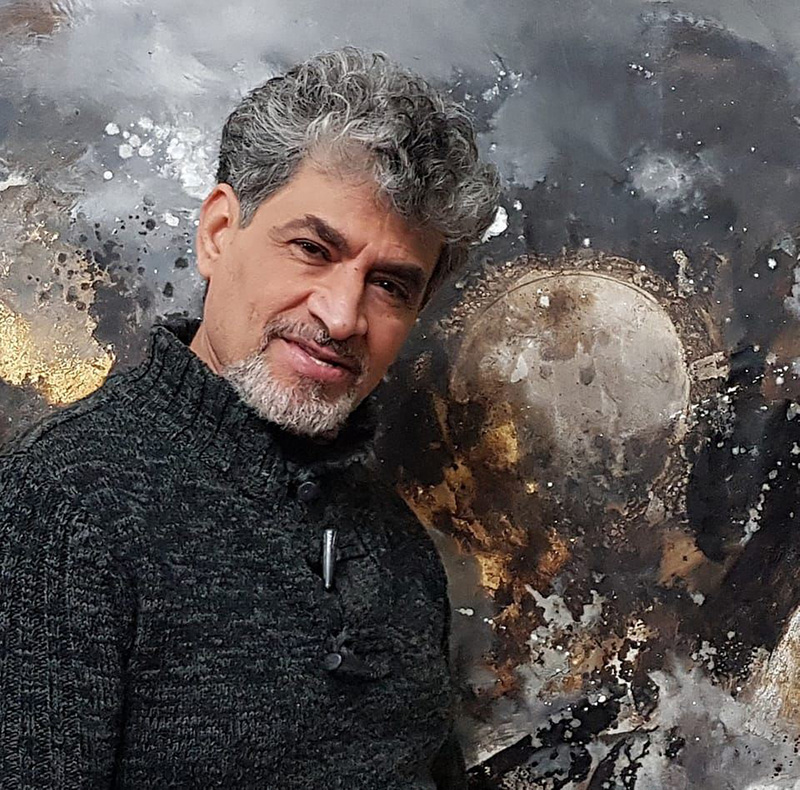 Biography
Complex personality, determined individual capable of giving expression to his deepest inspirations, Gamal Meleka was born in Cairo in Egypt, a city where he received a traditional scholastic education showing since he was a child, a strong inclination towards the art world.
He moved to Italy when he was nineteen years old, after obtaining a diploma in Graphic, thanks to a scholarship allocated by the Egyptian Ministry of Education.
Never without losing the perception of his origins, it is in the city of Milan that Gamal, and it's here that he moves himself, with determination, passion and enthusiasm, he begin his artistic training at the Academy of Fine Art of Brera, obtaining with excellent results a Doctorate in Painting.
In the works created during these first years in Milan, using his multi-ethnic culture, and without forgetting the perception of his origins, Gamal worked on expressive permanent research in new techniques that led him to create his particular style, inspired by the delicate subjects of Apocalypse, of Reincarnation and the Hereafter. He has always created his art with innovation and originality, using a personal expressive technique born after years of research, created with immediacy, gestures, perception, to become one of the first artists who has used various mixtures of resins covered with gold leaf in a complete and free artistic interpretation not decorative.
Eager to deepen and consolidate his artistic conscience, Gamal continued his studies, enrolling again at the Academy of Fine Art of Brera in Milan, getting got a second Doctorate in theatrical and television Scenography. Besides his artistic researches, he started a career of theatrical scenographer, for the "Piccolo Teatro Lirico" in Milan and for Mediaset's Tv channels.
During these years of great creative ferment, Gamal's personal exhibition in Milan and Rome has been acclaimed by Italian art critics Mario Monteverdi and Emidio Pietraforte. This exhibition, inaugurated by the Consul General and Ambassador of the Arab Republic of Egypt in Milan, Ismail Maklouf, leads Gamal to gain an important visibility with some of the most important Egyptian art critics and the Ministry of Culture.
Through the years, Gamal gained the attention from collectors and experts from all over the world, and has been appointed with many awards, such as nine times the Medal of the President of the Italian Republic for and 3 medals of his Holiness the Pope Johannes Paul II, Karol Wojtyla.
Member of the Museum of Permanent in Milan, Gamal got the national recognition as "Milanese" honorary citizen from the municipality of Milan, with the high honour "Ambrogino". Among countless awards we remember some of the most significant: for two consecutive years he wins the "Art Prize", instituted by the renowned art magazine sector Art, of the publishing house Giorgio Mondadori; "Europe Prize" city of Bormio (SO); commemorative premium "Italian Risorgimento" city of Groppello Cairoli (PV); national prize "Natale Malinverni" Spessa Po (PV); National Prize of the City of Santhia (VC); "Golden Brush" of the city of Ravenna; "Golden Palette" city of Marina di Ravenna (RA); the "Golden frog" city of Sartirana Lomellina (PV); two gold Medals of the City of Martinsicuro (TE); the silver Trophy of the City of Milan.
His works are in permanent collections of several cities, museums and art galleries, including: Museum of Modern Art in Cairo (Egypt), Foundation of Modern Art "El Ahram" in Cairo (Egypt); Consulate of the Arab Republic of Egypt in Italy; Center of developments of Italian-Egyptian relationship in Italy; Marrugat Gallery in Principality of Andorra; Keller Gallery in Zurich (Switzerland); Zammarchi Gallery in Milan (Italy), Ministry of Culture in Kuwait; Consulate of the Arab Republic of Eygpt (Italy); Consulate of the State of Kuwait (Italy); Bordeline Gallery in Voghera (Italy); Meeting Gallery in Vercelli (Italy); FalcoArte Gallery in Martinsicuro (Italy); The Futurist Gallery in Crotone (Italy); Bank Collection Cariparma Credit Agricole (Parma-Italy);
A huge press release has covered and given considerable space with reviews about his exhibitions and artist's interviews, such as Corriere della Sera, Il Giornale, Il Giorno, La Martesana, Milano2, La Prealpina, Il Resto del Carlino, La Stampa, Settegiorni, Famiglia Cristiana, l'Arca, Arte of Giorgio Mondadori, CasaViva of Giorgio Mondadori, Contemporary Art, FlashArt, Stile, Akbar Elyom, El-Ahram, El-Masaa, El-Mosauar, El-Sadak, El-Negum, Nos El-Donia, El Cairo, Weekly.
Among the distinguished historians and art critics who have reviewed Gamal, we remember: Kamal El-Mallakh (archaeologist, discoverer of the King Khufu Solar ship), Ahmad Fouad Selim, Engi Aflaton, Fatma Ali, Makram Henin, Mohamed El Naser, Mokhtar El-Attar, Nagwa El-Ashry, Carmelo Strano (Filosofo e Critico d'Arte), Lucia Messina, Milena Milani, Mario Monteverdi, Emiddio Pietraforte, Mino Rossi, Umberto G.Tessari, Umberto Zaccaria, Paolo Rizzi, Giorgio Severo, Ebrahem Abd Elmalak, Osama Afifi, Gamal El kassas, Shaza Yhia, Samaa Yhia, Donato Di Poce.
Since 2000, Gamal takes part in many international contemporary art exhibitions, presenting installations created with the aid of technological materials. For example: the 8th International Cairo Biennale (invited as a special guest by the egyptian Ministry of Culture to represent Egypt); the 2nd International Biennale of Contemporary Painting, Tehran (Iran); the 9th International Cairo Biennale (Winner of Biennale as the best project entitled "Inside the Bar Code" presented by the philosopher and art critic Carmelo Strano); the Artist Book Biennale organized by the Library of Alexandria of Egypt; the 3rd International Biennale of Contemporary Painting, Tehran (Iran); the international biennale of Contemporary Painting of Soliera (IT).
In 2010 a solo exhibition at the Hay Hill Gallery of London with 40 sculptures of the artist Auguste Rodin confirmed Gamal as a valuable international artist, to be the first living Egyptian artist, to expose his artworks with those of the renowned French sculptor.
In 2011 Gamal won the critics' prize Italianas a sculptor of the year 2011.
In 2013, under the patronage of the Ministry of Egyptian Culture, Gamal founded the first international Biennale of extemporary art in Sharm el Sheikh in Egypt.
In 2015 Gamal participated at the international art exhibition at CAC museum in the city of Malaga (Spain). The Kuwait Minister of culture has selected Gamal to take place at the international manifestation "El girn" as official judge. Gamal organized in the heart of EXPO2015, with the collaboration of the Kuwait General Consulate, the "L'arte nutre il pianeta. Nutrire il pianeta, energia per la vita", an international art event at the Kuwait's pavillon.
The Italian gallerist Lucia Messina effectively synthesizes Gamal's artistic profile: "Witness and storyteller through his extraordinary art, Gamal Meleka evokes us the charm of faces and places rich in history and he describes the passed time and Egypt, his place of origin, with lands parched by the force of Sun. The traces of the past, the many scattered fragments that remained impressed all around, are the story referred to in these works and that today we can investigate being guided ourselves by impressions and feelings that the artist shows us through the interpretations of his memories. His paintings are so materic that impress eyes as the sculpture, the bas-relief, art in which his ancestors, the ancient Egyptian of Pharaonic dynasties, were the masters and of which all museums in the world are rich. Also, thanks to his ability, often he is called to represent Egypt during important international events, as ambassador of the ancient and the new Egyptian culture".
An artist in full, acclaimed and renowned as so varied and original, Gamal models with material, animates with colours and scratches with sign, creating unique works in painting, new expressions in sculpture and futuristic visions in the installations.
Gamal is currently based and works in Milan and Cairo.