ALLAN STORER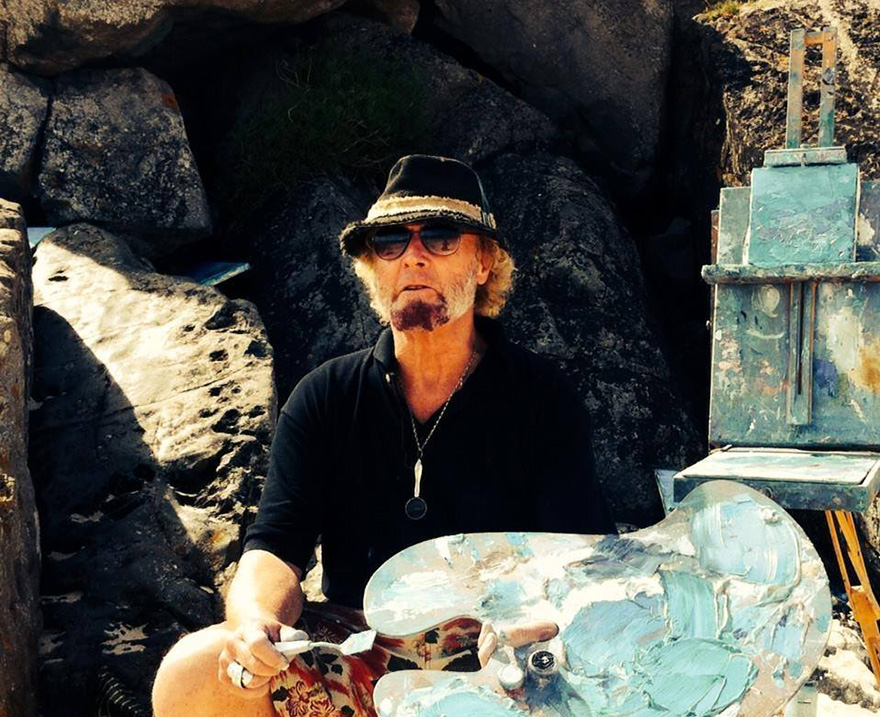 Artist Statement
Allan Storer MA. BA. Dip. Ed
Abstract Spirit
ďMy aim is to channel emotional energy to connect both viewer and painting. Oil painting is the medium itself, its materiality and power of texture is important giving both paint and image equal status.Ē
Oil painter, tutor and academic, Allan Storer enjoys life and people.
Colour, shape and value evoke emotion and feelings, the abstract connects with the spirit.
Like all abstract paintings my work is primarily about the inner and outer emotional connection between viewer and painting.
Painting my large abstracts with squeegee and palette knife gives me no alternative other than to loosen up and find opportunity in chance outcomes. Idea and technique assisted by oilís texture and materiality creates an organic vitality independent of image, paying homage to the artistic principle of creativity.
The direction of a painting is sometimes almost immediate, although very often I have to work and re-work the canvas, sometimes leaving it untouched for weeks or even months until the painting speaks and completion is achieved.
About The Paintings
My paintings are an extremely thick impasto texture; I feel the visible brush and painting knife strokes add to the adrenalin of the subject.
Consistently a figurative painter my work might broadly be called impressionist. Very often I will work and re-work a painting, sometimes leaving it untouched for months until completion his achieved. My Wales rugby painting 'Force' is a typical example of this three dimensional sculptural, painterly, style
I love the organic quality of oil paint for its own sake and like to focus on the medium of paint itself; in particular I am interested in the materiality and the texture paint creates. Action in a painting for me is movement across the canvas and the complete interlocking of image and paint; so the image is the paint and the paint is the image. My desire is to unite idea with technique and work it out in the painting.
About my latest work
Generally music is important when I am painting. Particularly the works of Sir Karl Jenkins and Ludovic Einaudi.
In my choppy seas paintings I am capturing the energy of oil paint in the spirit of the energy of the sea. Iím not looking at something and saying that looks like, or trying to manipulate an image to look like. Itís all about rhythm and balance. The oil on the canvas is the painting itself. Thatís what makes it real and in my Meta series I have intentionally repeated patterns of colour reinforced by my fascination for composer/pianist Einaudiís introspective minimalist compositions that cause the listener or in my case the viewer to stop and feel. There is no intended meaning in my abstract work and listening to the music of Karl Jenkinsí reinforce this mystique for me. Itís always up to the viewer.
Allan Storer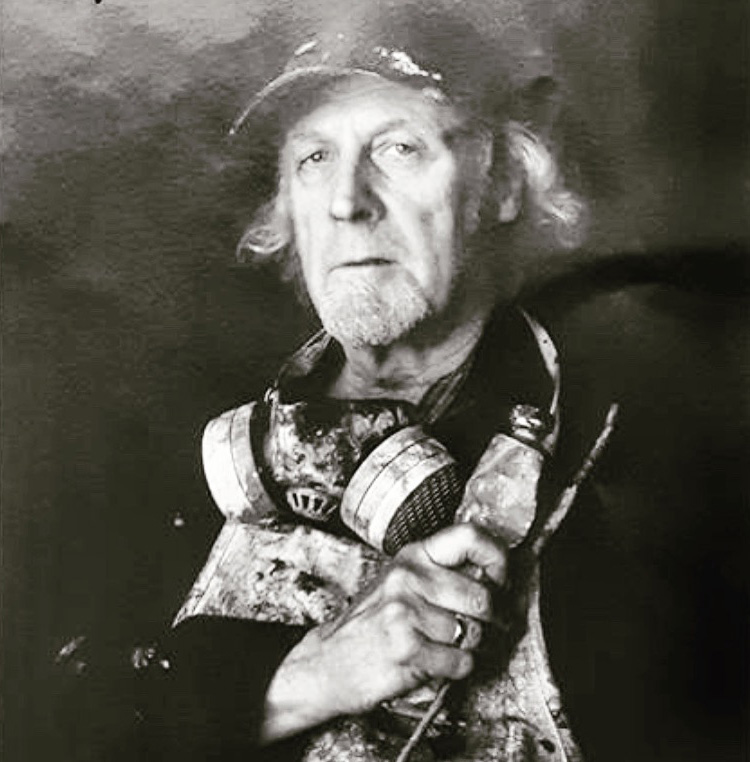 Biography
Following seven years academic studies and postgraduate research in fine art and theory at Chelsea College of Art and finally Kings College, Allan is a people person and communication is an essential element in his personality.
These skills were integral to his work in a community theatre, and his practise in crisis intervention in mental health and complex needs within an educational and psychotherapy profession.
Now based in St. Ives and London, he is a member of the Federation of British Artists, the Hesketh Hubbard Art Society and the St. Ives Art Club.
A published artist in the National Collection Public Catalogue Foundation of Paintings sponsored by the BBC, Allan has exhibited with the Royal Institute of Oil Painters in the Mall Galleries London, museums and public art galleries.
Commissions include a Royal household, numerous celebrities, politicians, executive villas and developments in Southern France including ten large works for the 2014 Grand Prix in Monaco.
His largest painting to date is an exceptionally large canvas twenty six feet height by eight feet width, extending from the ground floor entrance hall to the first floor landing for a large interior art project in an executive apartment of a McAlpine development luxury show home in Chelsea, London.
His other artworks have been featured in national tournaments in the USA, CD album covers and as event logos as far away as Columbia. Most recently Allanís paintings featured in an episode of the TV Detective series McDonald and Dodds.
Allan also provides workshops and is a respected art tutor and lecturer.
EXHIBITION HISTORY
AAardvark Gallery, Shropshire

Affordable Art Fair, Battersea

American National Rugby Play Offs (USA)

Art House Gallery St. Ives, Cornwall;

Bayswater Road Artist Association, London

BBC Paintings in the National Collection

Bedford Park Arts Festival, London

Birmingham NEC

Boundary Art Gallery, Cardiff Marina

Chelsea Art Society

Cobalt Gallery

Curzon Gallery Wimbledon

Glynn Vivian Art Gallery; South Wales

Graham Hunter Gallery, Marylebone, London W1U 6RQ

Hesketh Hubbard Art Society, Mall Galleries, London

Katherine Maginnis Art Consultancy

Landmark Gallery London

Leadenhall Elevated Art Fair, London

Loplop Studio, Twickenham

Llangollen International Pavilion

Luminaire Gallery, Knightsbridge

Marriott Hotel, Cardiff

Moreton Gallery, Moreton in the Marsh

Morgan-Davies Art

Mumbles Road Gallery, Swansea

Mall Galleries, London

Minotti, St.Margarets Street, Mayfair

No Naked Walls Gallery, Surrey

Nostalgia Gallery, London

National Trust, Rhossili Gower

Oyster Gallery, Mumbles, South Wales

Par ici Gallery London

Picture House Gallery Padstow

Royal Institute of Oil Painters, Mall Galleries, London

Saltmarshe Gallery Cardiff

Salubrious Gallery, Swansea

Museum of Wales

St. Ives Art Club

Tate Gallery, St. Ives, Cornwall, Charity Auction

Tros Gynnal Art Exhibition, South Wales

Swansea Museum

Turner Barnes Graham Gallery, Surrey

Up Front Rugby Fashion, Covent Garden, London

Up Front Rugby Fashion, Westfield Centre

Up Front Rugby Fashion, Blue Water
Washington Gallery, Penarth

Wimbledon Artist Opens Studios

World Rugby Museum, Twickenham

Wyecliff Gallery, Surrey

Wychwood Art Gallery, Deddington

Several Art Advisors and Interior Design Consultancies and Commissions
Works in the permanent collection of:
∑ Badger Brewery
∑ Belmont University, Nashville, Tennessee USA
∑ National Collection Public Catalogue Foundation of Paintings sponsored by the BBC
∑ Weatherspoon Brewery
∑ World Rugby Football Museum (RFU)
∑ Stoney Brooke University, Pennsylvania USA