The Art Investor, 2012, Issue 1 return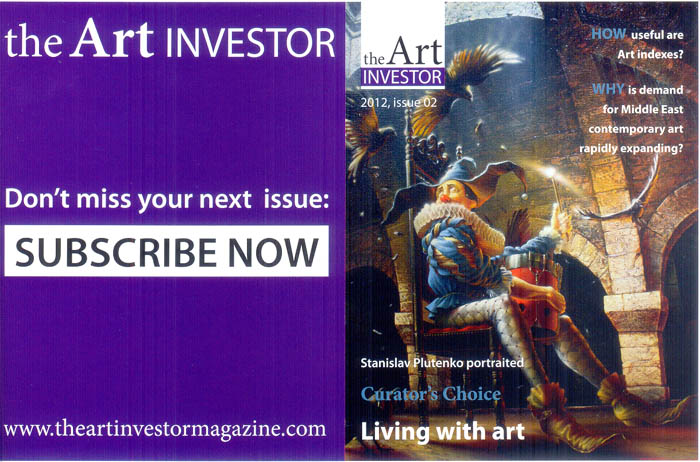 Off the Wall
Kevin Payne talks to Ross Tiffin at the Hay Hill Gallery, Cork Street, London
BY ROSS TIFFIN
Waiting in a quiet corner of the Hay Hill Gallery, while Kevin Payne finished dealing with a client, I found myself musing on the eclectic nature of art and the wide and varied pleasure it brings to so many people. Originally established in 1995 the Hay Hill Gallery specialises in the sculpture of the famed artist Auguste Rodin and represents a number of internationally recognised contemporary and modern artists. Here, tucked away at the far end of the gallery, I was sandwiched between a collection of smaller sculptures by Rodin, with all their anatomical rigour, a small selection of capricious sculptures by the Siberian Zorikto Dorzhiev and three stunning, skeletal hands cast in surgical grade stainless steel, by Bjorn Sjoling, each anatomically familiar but with enough distortion to imbue it with raw emotion. Three stunning little collections providing something for everyone. The nature of this series of articles is to ask collectors and gallerists which three items they would seize first, in the event of a mythical fire at their premises, in an attempt to save something from their collection. I hadn't had a chance to talk to Kevin Payne yet but, already, I'd found six pieces which I would wish to save from the flames. No one said this was going to be easy!
Kevin started out in London's Mayfair 10 years ago, when he first came to the London art world. His mother is a skilled artist so he'd decided from an early age that, whether as a painter or otherwise involved in the world of art, this what he wanted. Those early days gave him the opportunity to watch and learn and, also, to decide that his future lay in working with other people's art and not his own. However, he firmly believes that a background as an artist, whether as a sculptor or as a painter, is of enormous benefit when it comes to gaining some insight into the artist's mind. Extremely affable and quietly authoritative, Kevin selects work either as artists present themselves or as a result of much hard work and travel around exhibitions, shows and research with an increasingly international content. Christmas, last year, was spent in Berlin looking at art and artists for future collections. His interests lie not just in exhibitions but in installation artworks, the development of galleries and in private collections the world over which can be opened up to the public for so many more people to enjoy.
One of his concerns is that for many people, the whole process of buying art and the places where that takes place can be intimidating and therefore somehow unattainable. This, he believes, runs counter intuitively to the desire of the artist to take something - perhaps a bare canvas or a shapeless lump of clay -and to create something, something with emotion that people can relate to and enjoy.
"Art is important in helping us to identify who we are ourselves, this time in history, the place we live. We've moved from the daubs of cave dwellers created to tell the story of a hunt to today seeing experimental and unusual mediums relevant to now - who knows what the future holds and what future mediums might be created to enable artists to continue to document this world? It's part of our nature to want to find something to own which has a level of skill which we cannot, ourselves, reproduce and so that becomes a privilege in itself, for us to own it." What better cue to introduce the first of the three pieces which Kevin would rush to save, in the event of a mythical fire.
"The first piece I'd have to save would be Rodin's "The Thinker". I remember seeing Rodin's "Gates of Hell" at the Musee D'Orsay when I was 10 years old. I knew little about art then but something about it captured my imagination. Just think, it depicts a scene from "The Inferno", the first section of Dante Alighieri's Divine Comedy and stands at 6 m high and 4 m wide and contains 180 figures! The figures range from 15 cm high up to more than one metre. Several of these figures were also cast independently by Rodin. I suppose, at that time, I was hooked on Rodin and, as you know, we specialise in Rodin's sculpture here." "The Thinker" is a bronze and marble sculpture by Rodin, whose first cast, of 1902, is now in the Musee Rodin in Paris; there are at least twenty other original castings as well as various other versions, studies, and posthumous castings. People say that it depicts a man in sober meditation battling with a powerful internal struggle and some believe that The Thinker was originally intended to depict Dante at the Gates of Hell, pondering his great poem. This detail from the Gate of Hell was first named "The Thinker" by foundry workers who noted its similarity to Michelangelo's statue of Lorenzo de Medici called II Penseroso, the Thinker.
"Art is meant to be seen. Artist communicate emotion. The crucial interaction between the viewer and artist's work is absolutely necessary and perhaps even completes a piece. Art should be not locked away in some vault"
"For me, it isn't just that The Thinker is thought to represent philosophy, I just love the scale and its balance. This piece is so wonderfully tactile, I would just have to make that my first choice of something to save!"
The second piece is very different and is a woodcut by Escher titled "Scarabs". An image of the dung beetle rolling his ball of dung uphill. This was the first significant piece of art ever purchased by Kevin. He liked the humour and the great symbolism in how its task relates to life itself.
"These are curious creatures and they gave Escher an opportunity to capture the precise details, the reflections of their shiny shells, against a complex background. MC Escher said that in order to see it well, he had to draw it and I would have loved to have been able to speak to Escher to see whether he saw that same symbolism or just that he liked the subject matter and wanted to draw it. Also, these scarabs are one of my favourite African creations, each acts like a mini-Hercules. I spent quite a lot of time in Africa and just found it beautiful. I loved the people, the countryside, the culture and, of course some great artworks come out of Africa. We haven't yet spent enough time discovering the depths of contemporary art to come out of Africa; when you think about the places and nations from Morocco at the top to Cape Town at the bottom of the continent there are so many cultural variations from tiny villages to bustling metropolises. So many influences and so much yet to come."
The third piece to be rescued might surprise some people but, having spent time with Kevin, I was beginning to understand him better.
"My third piece is an original poster for the film Jungle Book in 1967. I loved the film as a kid and have seen it more times than you can imagine. I also love the concept of cartoon - so many thousands of frames painstakingly drawn to illustrate this wonderful story. Each one is an achievement in its own right but when you string them together, each becomes part of the whole and the whole thing comes to life in vivid detail. Wonderful!"
To finish the interview, I asked him about any commonality of interest and influences which have led him to where he is today. We discussed at some length the eclectic nature of collectors and investors; how some are seeking that special piece to complete a collection while others simply and spontaneously buy something they love. Where corporate buyers piece together collections, he hopes that more of these will be opened up to the public so that, whoever buys art, it can present an opportunity to keep great art in this country for both historical reasons and because it brings such joy to other people. His final comment was, "I live by what I discuss with collectors and that is that they should buy what they like. Art is to be lived with and enjoyed; over time tastes change and people like and want different things but buying art to keep should be a passion!"
For more information, see www.hayhill.com