https://www.artlyst.com/features/rebirth-cork-street-galleries-oliver-malin/
The Rebirth Of Cork Street But Where Are The Galleries? – Oliver Malin
19 May 2019 / Art Categories Art News / Art Tags Cork Street / Redevelopment
When most people think of the London art scene, It may be tricky to pinpoint what constitutes its epicentre. Perhaps it starts with the major institutions, The Tate, RA, National Gallery and works outwards, Oyster card at the ready.
Cork Street once captivated the pulse of the London art world but in the present is lacking in occupation
In one direction, Overground pending, we might conduct a few turns around Hoxton/Shoreditch/ Dalston ending up in the depths of Hackney Wick to see an experimental installation or performance, should we find it. Northern Line willing, we won't get much change at either end, if we seek out an abundance of artistic happenings. However, if we are feeling brave, North London passport, at the ready, with the hope of making it across the border into South London, an annexe added to the City by the Romans when they cooked up Londinium around AD42, we find the more serious edgy offerings.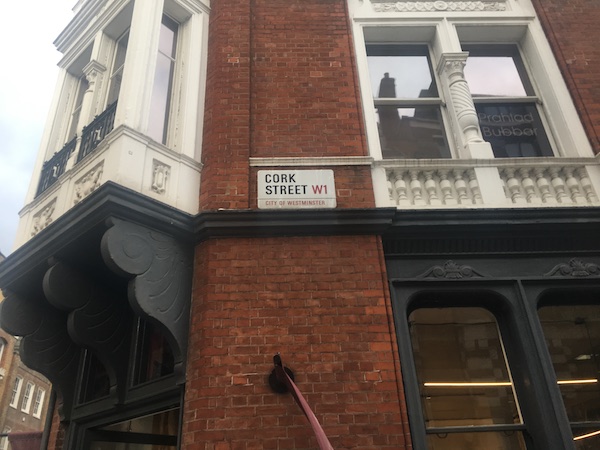 Cork Street Photo: Oliver Malin
Should large modernist buildings and equally large openings be your game, then White Cube in Bermondsey is a great destination as Is Damien Hirst's, Newport Street Gallery. If your palate requires a different menu, then why not try somewhere in Deptford, to witness a collective artist banding together to show work on their own terms as long as you bring your own beer, which is likely to be the same policy with the enfants terribles in Peckham.
Hopefully, that long-winded introduction to the current localities of the London art scene is a justified segue into examining Cork Street, a local that once captivated the pulse of the London art world, a titan of the past but in the present, lacking in occupation.
This prestigious street, which facilitated the first London exhibitions of Francis Bacon and Joan Miro at the Mayor Gallery, and the likes of Redfern Gallery, a resident since 1936, which championed Henry Moore and Barbara Hepworth starting from their student days. It currently has 43,000 sq ft of purpose-built gallery space, a 100% increase according to the developers.
This activity of positive regeneration, completed over the last few years and spearheaded by a campaign to ensure the street stays as an Art District backed by the likes of David Hockney means for the immediate future, Cork Street has an abundance of (protected?) exhibition space. The issue at hand is that most of the bulk of the new area is currently unoccupied, gathering dust and rates bills.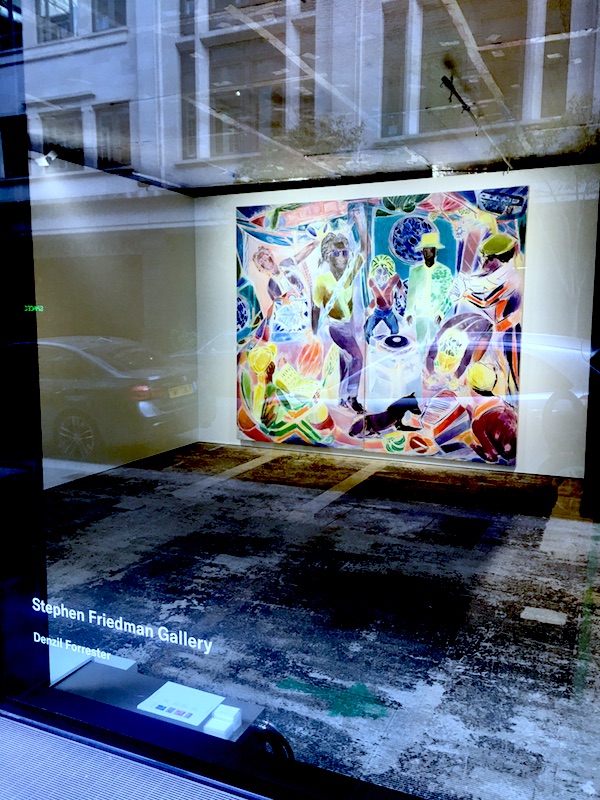 Cork Street Photo: Oliver Malin
In defence of the vacant properties, we aren't in the most fertile economic period currently, so the concept of "build it and they will come" hasn't quite taken root yet. In fact, the liveliest section of the street is occupied by an eatery called "Stork", It's impressive exterior floral display only matched by its eye-watering prices.
In the mid-80s a series of attacks on Cork Street's gallery windows with grey paint, by the aptly named "Grey organisation" as a protest against how bland the galleries were caused a minor stir & Wikipedia entry. This radical and symbolic action perhaps can be a lesson learned to help bring life back to the street in the present day. Should the powers that be invite small galleries, groups, collectives or even individuals to populate the window or gallery spaces while larger, well-heeled tenants stake a claim, it would perhaps create a buzz. Such activity often does and in turn, longer-term tenants will be queuing up for a slice of the action.
On the neighbouring street, Old Burlington Street, Stephen Friedman Gallery has multiple window spaces add to the formal gallery spaces, which currently gives Denzil Forrester, an extremely wide exposure, which his large scale, figurative, colourful, semi-abstractions, much deserve.
Signs of life are crucial to Cork Street's vitality, so with the redevelopment, a considered approach to short-term tenancy might be the solution. Perhaps a realistic rent review is called for after all this isn't Bond Street and with the creation of the South Kensington art quarter, there will be competition. So before more dust gathers and the Grey organisation reforms with their tub of grey household paint in hand, quick action needs to be implemented for an immediate re-decoration solution.
Words/Photos Oliver Malin © Artlyst 2019