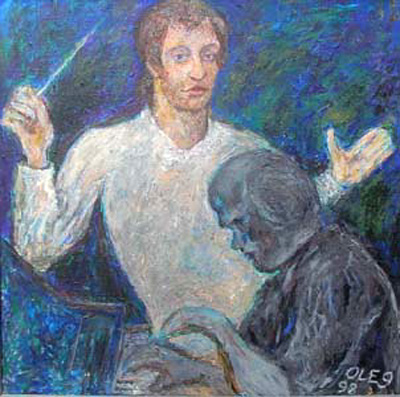 Portrait Of Valery Gergiev
Acrylic on canvas, 70 x 70 cm, 1998
The book 'From East to West: The Painting, Poetry and Sculpture of Oleg Prokofiev' by E.S.Jones (issuu)
The book 'Oleg Prokofiev: Selected Last Poems, 1990-1998', new versions translated from the Russian by Graham High and Joan Smith (issuu)

purchase (pdf, password protected)
The purchase document contains the images of the available artworks with their prices. It is password protected. To obtain the password please contact us.
OLEG PROKOFIEV (1928-1998)

Oleg Prokofiev was a prominent artist, sculptor and a poet. Son of the great Russian composer Sergei Prokofiev, he was born in Paris but at the age of seven returned with his parents to Moscow. He lived there for 35 years, becoming a member of a small group of artists defying Soviet socialist realism. His abstract meditative compositions created in the 60s are now exhibited at the Tretyakov Gallery, the national museum of Russian art in Moscow.

In Moscow he met a young English art historian, Camilla Gray. The publication of her ground breaking study of Russian avant-garde 'Great Experiment: Russian Art, 1863-1922' infuriated Soviet officials and Camilla and Oleg were not allowed to see each other for six years. Tragically, two years after they were eventually allowed to marry, Camilla died.

Oleg decided to move to the West, and from 1971 until his death in 1998 he lived in London. Here he found a new family and fresh inspiration. He turned to sculpture. The 'organic constructivism' of his graceful sculptural compositions is clearly reminiscent of the Russian avant-garde of the 1920s.

Oleg's late paintings are also strikingly atmospheric. They astonish both in their freedom of expression and their symbolic intensity whilst maintaining a strong sense of continuity within the artistic tradition of the 20th century.